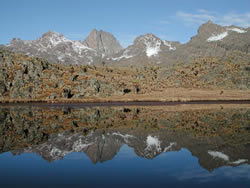 The beauty of Climbing Mount – Kenya!
The second highest Mountain in Africa where you touch ice and snow on the equator offering you splendid high elevation scenery with perfect backdrop for great herds of plains game bringing you Africa at its most primal and pure nature of this sacred mountain that straddles through the equator but above all the challenge to fulfill a commitment
Mt. Kenya is a dome-shaped central volcano. It is the largest mountain in Kenya. Ten glaciers cover the volcanoes peaks. The original crater on Mt. Kenya was over 20,000 ft (6100 m) high but has been heavily eroded. Most of this erosion occurred during two periods when glaciers carved much of the top of the volcano. These periods wore down the ring-like plug forming the top of Mt Kenya. In fact, almost 35% of the volcano has been worn away.
Climbing Mt Kenya is a spectacular walk up the beautiful Sirimon valley away from the main tourist route on Mount Kenya. The trek passes through a diverse range of vegetation and climate zones, from dense forest to tropical cactus plants to snow covered peaks within a relatively short distance. No technical climbing is necessary to reach Point Lenana, the "walking summit" at 16,400 ft. Descending to the base we will relax in a lodge before returning to Nairobi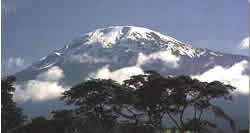 The beauty of Climbing Mount Kilimanjaro
Come Climb with use!!!!! With us the memory of living a few days of climbing with rich scenery, comradeship, learning, and challenge coming down with a powerful and fit body, and a great strength of will and self-confidence to face your daily activities!!!
Africa Climbing, Mount Kilimanjaro Climb, Climbing Mt Kiliamanjaro to Africa
Highest peak. Mt Kilimanjaro one of the East Africa Mountains at an altitude of 5895m ,the highest freestanding mountain in the world and one of the seven summits.
Best months for trek Mt Kilimanjaro
The absolute best months for climbing are January, February, and September since they are the warmest months and almost clear of clouds. , though one could easily succeed throughout the year. April and early May could get heavy rain or snow, but is good if you want a quiet clear mountain. Also great are June through August (though colder), and November/December (could be wetter). Through September and October it gets steadily warmer. October is particularly good if you want little or no rain, mild weather and few people on the mountain.

January through March are the warmest months, almost clear of clouds safe for a few brief rain showers, followed by the main rainy season during April & May. The temperatures will still be warm, but massive clouds will block visibility, while dropping snow on the summit and heavy rain on the lower slopes.